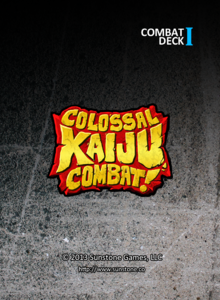 Colossal Kaiju Combat is a Kaiju trading card game by Sunstone Games based off the video game series of the same name.
Card Sets
Rules
Main article: CKC Card Game Rules.
Gallery
Main article: Colossal Kaiju Combat (Trading Card Game)/Gallery.
Videos
Trivia
The Video Game was thought of before the Trading Card Game, but the Trading Card Game was released first.