Roar

This article is under construction to remove strange and out of place things like that crocodile and replace it with something better or to add information. So don't delete it if a stub until two months from now. That was some baad grammar.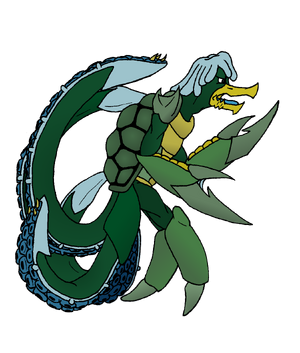 The Quacken (Quack is a duck sound, Kracken a monster of the sea) is a Phase 3 Sponsorship winner monster created by forum user IngoLingo.
InformationEdit
"Lost Overseas Legend"
Height: 93 meters
Weight: 56,000 metric tons
Gender: Male
Combat Style: Charging, Melee
Primary Attacks: Claws
Secondary Attacks: Shell, Tails
Primary Weapon: Aqua Bolt
Secondary Weapon: Ink Cloud
Energy Style: Elemental Affinity (water)
(pending)
Energy System
Edit
(pending)
Ranged Combat
Edit
(pending)
Grappling
Edit
(pending)
Melee Combat
Edit
(pending)
Weeknesses
Edit
(pending)
Animation GuidelinesEdit
(pending)
Trading Card GameEdit
The Quacken
Illus. Franky B. Washington
Title
Lost Overseas Legend
Card Series
Sponsorship Series 1
Set No.
39
Height
93 Meters
Weight
56,000 Tons
Gender
Male
Primary

Attack

Claws
Secondary

Attack

Shell, Tails
Primary

Weapon

Aqua Bolt
Secondary

Weapon

Ink Cloud
Affiliations
Unknown
Card TextEdit
(pending)
Combat Ability
Edit
The Quacken gains a permanent +1 to all stats after each Turn.
(each stat can maxs out at 10)
Atributes
Edit
Teeth - Armor - Claws
Ferosity: 5
Agillity: 2
Power: 3
Fortitude: 6
Releas InformationEdit
Was released as 1 out of 50 monsters in the First Sponsorship Series.
Card was released 07/09/2013.
The Quacken is part duck, octopuss, turtal, and crab.